In the past couple of months we were dedicated to CSR actions and here's a short overview of everything we did.
18 days around DTSE International challenge
From May 28th until June 14th we teamed up with all our international locations (Hamburg, Leipzig, Cologne, Darmstadt, Nuremberg, Brno, Bratislava, Kosice, Timisoara, and Bucharest) to go around DTSE in 18 days. This challenge was meant to raise awareness and money to support a CSR cause. And we successfully did it!
 This pandemic changed our whole way of working. We know it's difficult sometimes to cope with all the restrictions and staying home, as much as possible, can become nerve-wracking. However, we can all agree that slowly, but surely, we're starting to see an improvement regarding the pandemic situation. This is why we wanted to go Around DTSE in 18 days.
What was this challenge about?
The main goal was to cover the distance from Bucharest to Hamburg by collecting kilometers, either by walking, running, cycling, etc. to donate a certain amount of money to the German National Paralympics Committee. The teams from all our 10 locations had to cover 3017 in total, so DTSE could donate 500 Euros to the National Paralympics Committee. The teams covered 20.363 kilometers (500 colleagues participated) therefore DTSE doubled the amount of money donated to the National Paralympics Committee. 
There was also be a competition between the 10 individual locations of DTSE. The team with the most km covered had a chance to win a budget for local CSR activities/projects. Congratulations to Team Nuremberg for winning this challenge.
DTSE Romania did a twist
We never miss an opportunity to support an NGO, therefore we came up with a little twist: we challenged our colleagues to cover 885 km in total, which is the distance from Bucharest to Kosice via Timisoara, and DTSE Romania will donate 885 Euro to a Romanian NGO. Our amazing colleagues did it! In total, 40 colleagues participated from both Bucharest and Timisoara, covering 1213,38 km in total.
The organization we chose to support is Copii Association. They are doing so many great activities which are meant to improve children's lives. They say "all children have a chance to education" and we fully support that statement and their mission.
All in all, we can all agree that the 18 days around DTSE challenge was a success. It felt good to do some outdoor sports activities after such a long time. It felt even greater because by doing these basic, normal activities we made so many people smile by contributing to their mental and physical wellbeing.
Planting action
First held on April 22 back in 1970, Earth Day is an annual event meant to demonstrate support for environmental protection.
To celebrate it properly, this year, we financed the planting of 1000 trees in Goicea, Dolj county. This area struggles with hectares of desertified land, one of the problems we face due to climate change. In the short video below, you can see a plot already affected by this phenomenon, which is advancing very fast. With our support, we hope to overcome afforestation issues in our beautiful country, as much as we can.
We can't wait to plant many more trees together with our colleagues (like we did in our previous years) after things will go back to normal.
Supporting Copii și Zâne Association
Helping local communities and supporting social activities is important to us.
This time, we contributed to Copii si Zane Association's work for educational programs and social services.
Adrian, our Welcoming Ambassador, visited the association and has handed over the branded t-shirts and many more useful office supplies. The Copii si Zane volunteers were preparing to parrticipate at the Timotion event, so the branded t-shirts were more than welcomed.
Timotion is, in just a few words, Timisoara's biggest popular charity-running event that means: friendship, community, hope and involvement.
The Copii si Zâne Association's team finished the competition on the 6th place (from a total of 373 teams). We're congratulating them for this result and for all the amazing things they are doing for the kids & community.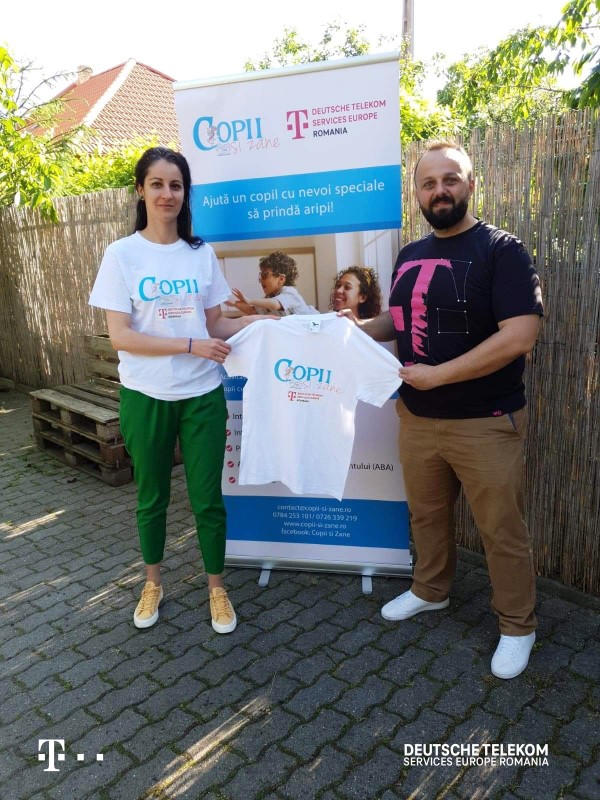 Kindness will never go to out of style. Taking care of our planet is not just a short time duty for mankind. It's an ongoing process.
We truly believe that together we can create a better world and bring smiles on so many people's faces by offering our support whenever we can. #wemakeithappen